You've probably heard about the iOS 14 update and how it will affect Facebook ads performance. Well, I'm here to give you some facts and tips on what exactly is happening and how to get the best ad performance in terms of ROI (return-on-investment) and ROAS (return-on Ad Spend).
If you are holding your breath rest assured that:
You can still run your campaigns as normal(ish) and
if they don't work, I'll provide some guides on changing campaign targets and bidding strategy instead of abandoning them altogether like so many marketers are doing right now
What exactly is changing?
Apple just took a big bite out of your conversion data!
Facebook uses a piece of tracking code called the 'Facebook Pixel' which is installed on websites and apps to track user's preferences so they can serve them personalized advertising.
Any business that uses the pixel to target, optimize and report on conversion events will be affected. This is because Apple will now prompt users if they want to be tracked via the following prompt: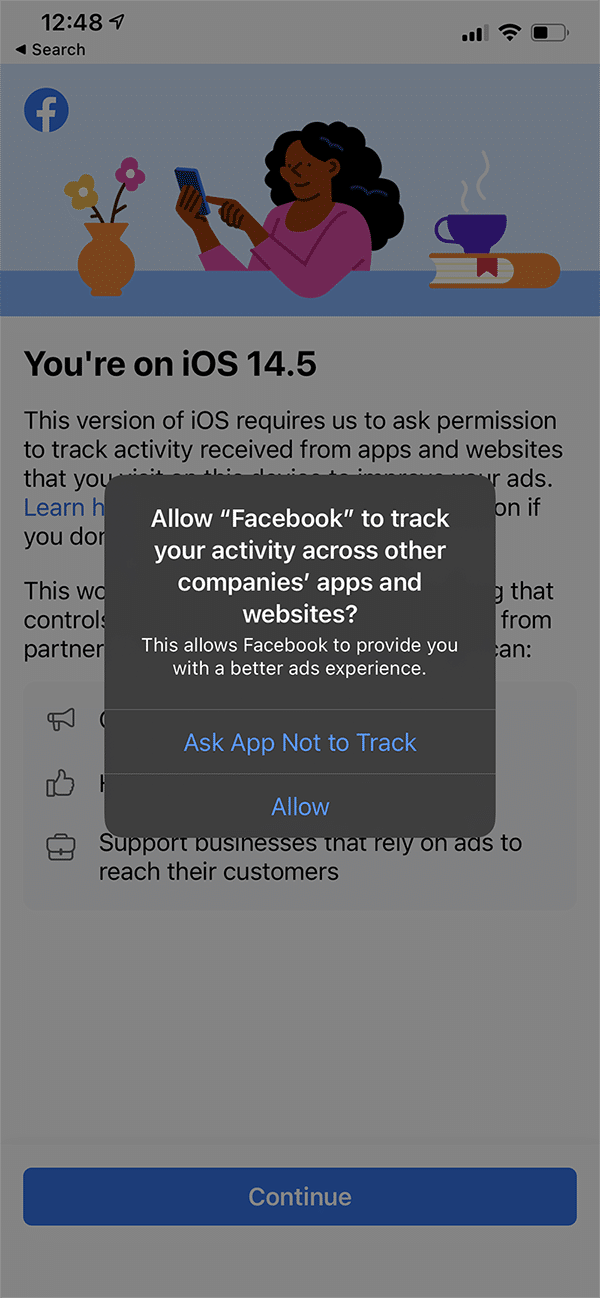 For the users that will select "Ask App not to Track" you will effectively lose the ability to track, retarget and measure conversions for.
How will this impact campaigns?
All Facebook advertising strategies including retargeting, conversion tracking, or lookalike audiences rely on the Facebook tracking pixel. If a user opts out of tracking, this renders the Facebook pixel useless for that user. If enough users opt out of Facebook's tracking, this accumulates to a significant percentage of users that you will not be able to subsequently advertise and track them efficiently.
What is Facebook response to this?
Facebook has responded by attacking Apple's decision to implement these changes, stating that it is going to negatively affect small businesses looking to advertise on their platform. It has introduced a number of changes which you will have seen in Facebook Ads Manager and elsewhere, here I'll cover some important ones:
Reporting: Facebook has introduced what it calls Aggregated Event Measurement. Using statistical modelling, Facebook estimates how many opted out users have converted. In the Ads interface next to the number of conversions you will see this:
What this means is that for the users it can't track it is using statistical modelling to 'predict' if a conversion has happened. As a side effect of this you will also lose some breakdowns in reporting including demographics.
New setup needed: You will need to verify your domain with a meta tag to associate an ad account with the domain and configure which events you want to track in events manager.
Strategies to survive the iOS 14 update
As I have explained the changes will both affect targeting and reporting so we will explore there separately:
Targeting strategies
Use custom audiences for retargeting: This is manual work but if you have your users info (name, email, etc.) you can upload them into a custom audience and use that to retarget. Especially for e-shops this is a solid strategy for retargeting abandoned carts.
Use video views for retargeting: If you have key videos for your products and/or services you can create custom audiences from people that have seen your videos.
Create lookalikes based on non-pixel lists: I'm seeing good results creating Lookalike Audiences from non-pixel user lists by using some of the following as seed audiences:
Facebook and IG page engaged users
Facebook and IG shopping events (you need a shop set up on FB and IG respectively)
Customer lists
Video engagement audiences
Use bidding caps like cost cap: You should be using these anyways. Now it is more important than ever to use bidding limits and not go with the default 'lowest cost' bidding strategy because that will eat up all your budget without getting you the results you want.
Exclude or Segment iOS devices from campaigns: As a last resort and to ensure your data is accurate you can altogether exclude iOS devices. This might make sense for some advertisers who are mainly desktop based. You can also run separate campaigns for iOS.
Reporting strategies
Use Google Analytics or 3rd party tracking software for reporting. You're probably running ads on more than Facebook (if you're not you should) and therefore you need a single place to see all your reporting and that's Google Analytics.
Make sure to use a plugin to import your Facebook cost data to Google Analytics so that you can measure ROI and ROAS across all your paid marketing channels.
Let's wrap up
It's a bit early to tell exactly what the long term implications will be, but these are definitely not the "death" of Facebook advertising as some have claimed. It is always good idea to diversify your marketing channels so that you don't depend on any one channel and changes happen all the time anyway!
Need help surviving the iOS 14 Ads Apocalypse?
I help businesses succeed through paid search and social. If you don't have the time or expertise to master your Facebook ads yourself, feel free to say hello and let's have a chat: yannis@adgurus.gr